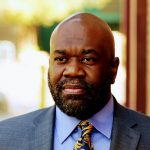 "Earl Wellington Hazell as Booker T. Washington…peppered the story with layers. Hazell in particular [was] memorable and authoritative…" Utah Theatre Bloggers review of the Utah Festival Opera production of Ragtime
"As the Speaker, Earl Hazell sang with dark tonal colors that rang true."
Opera Today, review of the Phoenix Opera production of Die Zauberflöte
"Earl Hazell sang the Commissioner with a stentorian voice."
Opera Today, review of the Phoenix Opera production of La Traviata
https://www.reverbnation.com/earlandalexis/song/19716980-earl-der-tamboursgsell-knaben-wunderhorn?wordpress=1&pwc[size]=small
https://www.reverbnation.com/earlandalexis/song/19717032-earl-people-that-walked-in-darkness?wordpress=1&pwc[size]=small
ReverbNation Electronic Press Kit
Earl Hazell, Basso Cantante and native New Yorker is a performing and creative artist developing a multi-faceted career through the embrace of opera, literature and modern jazz on the world stage. He recently embarked on his third production with Lyric Opera of Chicago when he joined the cast of Verdi's Nabucco, directed by Matthew Ozawa and conducted by Maestro Carlo Rizzi, before covering Morris Robinson in the title role of the Cincinnati Opera production of Porgy and Bess. He will return to Lyric Opera of Chicago for their production of Wagner's Ring cycle.
Earl has also performed with San Francisco Opera, Tulsa Opera, Arizona Opera, Utah Festival Opera, Townsend Opera of California and Phoenix Opera; performing and covering roles such as Colline of Puccini's La Boheme; Crown of the Gershwins' Porgy and Bess; Zuniga of Bizet's Carmen; Ferrando of Verdi's Il Trovatore; Joe of Jerome Kern's Show Boat; Booker T. Washington of Flaherty & Ahrens' Ragtime; Sarastro and The Speaker of Mozart's Die Zauberflöte; Ramfis and Amonasro of Verdi's Aida.
A graduate of the La Guardia High School of the Arts at Lincoln Center, the Aaron Copland School of Music at Queens College and the University of Kentucky Opera Theatre, Earl has performed with the New York Philharmonic numerous times, including their landmark performances of the Britten War Requiem under Kurt Masur in the Cathedral of St. John the Divine; the Beethoven Ninth Symphony under Zuben Mehta in the United Nations; and the nationally televised Beethoven Choral Fantasy with pianist Alfred Brendel in the One Hundredth Anniversary of Carnegie Hall, conducted by James Levine of the Metropolitan Opera.
Earl also recently performed as Bass soloist for the Grand Canyon University Symphony Orchestra productions of the Verdi Requiem and Brahms Ein Deutsches Requiem; as Talpa in Il Tabarro for the Utah Festival Opera production of Puccini's Il Trittico and Booker T. Washington for their production of Ragtime; as Bass soloist for Bach's Mass in B minor with the Utah Festival Opera Orchestra under Maestro Craig Jessop; as Pilate in Bach's St. John Passion for MusicaNova of Phoenix under Maestro Warren Cohen; as Bass soloist for the Scottsdale Symphony Orchestra production of the Beethoven Ninth Symphony; and appeared to critical acclaim at the Interlakes Theatre in New Hampshire and at Arizona Broadway Theatre as Joe in their productions of Kern's Show Boat.
A recurring featured soloist throughout the United States and Spain with the American Spiritual Ensemble founded by Dr. Everett McCorvey, he has also worked with Opera Ebony of New York on several productions. These include the critically acclaimed Gounod's Faust and the internationally televised production Jessye Norman Sings for the Healing of AIDS with Jessye Norman, Max Roach, authors Maya Angelou & Toni Morrison, choreographer Bill T. Jones, actresses Anna Deveare Smith & host Whoopi Goldberg, and special guest Elton John; directed by George C. Wolfe. With the Moses Hogan Singers, he had the pleasure of working personally with the composer for Give Me Jesus: the CD of his signature Spirituals arrangements for his ensemble and the celebrated soprano Barbara Hendricks, produced and recorded by EMI.
It is through his treasured relationship with the quintessentially American opera Porgy and Bess, however, that Earl has become a citizen of the world. Soon after performing in the ensemble of the historic Götz Friedrich production in the Theatre Des Westens, Berlin, he has to date performed the character roles of Jake, Jim, the Undertaker, Robbins, Nelson and Lawyer Frazier throughout the continental United States and Hawaii; Western, Central and Eastern Europe; The United Kingdom; Australia and New Zealand; Canada and the Caribbean. This includes the Hamburgische Staatsoper; Teatro Regio di Parma; Lyric Theatre of Sydney; the Centro de Belem of Lisbon; Teatro Comunale, Bologna; Royal Albert Hall, London; Palacio de Bellas Artes, Mexico City;The Badminton Theatre, Athens; The Semperoper, Dresden; Mikhailovsky Theatre, St. Petersburg; The Festspielhaus of Baden-Baden; Opera-Théâtre d'Avignon; The Teatro dell' Opera of Rome; and other houses throughout Spain, Germany, Italy, France, Belgium, Denmark, Holland, Russia, Poland, Switzerland, England, Ireland, Scotland and Wales.
Earl debuted with Tulsa Opera as The Speaker in their 2008 production of Die Zauberflöte; with Lyric Opera of Chicago as Nelson in Porgy and Bess in December, 2008; with San Francisco Opera as Jim in Porgy and Bess in June, 2009 (nationally televised on PBS); and with Phoenix Opera as Zuniga in their November, 2009 production of Carmen. As a featured soloist with the Southern Arizona Symphony Orchestra, he alternately performed the roles of Cascada and Kromov in their April, 2010 production of The Merry Widow in Tucson, before returning in June to perform the role of Leporello in a concert presentation of Don Giovanni. His Arizona Opera debut was in the cameo role Il Contadino in their October 2011 production of Pagliacci.
Earl proudly returned to Phoenix Opera in the 2010/2011 season as Sarastro for their touring production of Die Zauberflöte in November; the Speaker for their mainstage Die Zauberflöte production in the Phoenix Orpheum Theatre in December; and his critically acclaimed work in the cameo role of Il Commissario in their March 2011 production of La Traviata. He also returned to Arizona Opera as the Old Gypsy of Verdi's Il Trovatore and Bishop Dyer in the original opera workshop of composer Craig Bohmler's Riders of the Purple Sage in their 2012/2013 season; to San Francisco Opera for their 2014 production of Show Boat–with Director and Conductor Francesca Zambello & John de Main, singers Patricia Racette & Morris Robinson, actors Bill Irwin & Harriet Harris, and his wife, Alexis Davis Hazell; and to Lyric Opera of Chicago as Jim for their Fall, 2014 production of the Gershwins' Porgy and Bess. Both Zambello productions of Porgy and Bess and Show Boat at San Francisco Opera are sold internationally on DVD and nationally televised on PBS. He will return to Lyric Opera of Chicago for their 2020 production of Wagner's Ring cycle, in Gotterdammerung.
Earl Hazell is the Founder, Executive and Artistic Director of Jazzoperetry® , Inc.: the American company which will produce his sixteen-piece jazz, vocal and poetry ensemble OUR WOMEN NOW, and currently produces the flagship recital series Earl and Alexis: AMERICAN SONGS.
Download Bios
Download Artist Resumes

REVISED Earl Hazell Music Director CV
Download Artist Hi Res Headshot