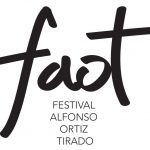 FAOT 2019 Noche de Gospel: The Spiritual and the Soul. Earl and Alexis appear in Jazzoperetry co-production with the Alfonso Ortiz Tirado International Opera Festival presenting the first ever full program of African-American spirituals and gospel music in Alamos, Sonora, Mexico. read more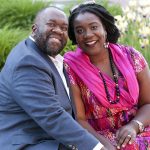 6/3/2016 – Clayton Gefre – The Herald Journal – Photo Courtesy of Eli Lucero / The Herald Journal –  Married performers return to Utah Festival Opera following local romance
In the summer of 2007, New York native bass-baritone performer Earl Hazell delayed a planned European tour to perform a creatively challenging repertoire at the Utah Festival Opera. At the same time, Arizona State University vocal graduate student Alexis Davis was recommended by her voice teacher to seek out-of-state performance opportunities, joining the Utah Festival Opera in her first major on-stage role outside of Arizona. Nearly a decade later, Read More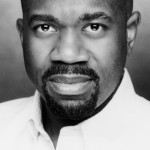 6/20/2014 – Earl Hazell – Backstage at San Francisco Opera Blog – Earl & Alexis return to SFO: Somthin' that the angels done plan
SAN FRANCISCO – It was cold in New York in February, 2008 when I flew into LaGuardia airport, but not too cold.  After years of living in Lexington, KY, where I raised a son and worked on a Master's in Vocal performance at the University of Kentucky Opera Theatre, I always flew into the busiest airport of my hometown for opera auditions with the romantic head of a twenty-something professional virgin from the midwest—this, when I was anything but. Read More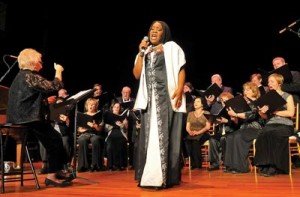 9/13/2013 – Tamara Stone – THE AZ EDGE – Photo Courtesy of Matt Hinshaw/The Daily Courier – Gee, Gershwin! PCA season gets off the ground with an American classic 
PRESCOTT – The Prescott Center for the Arts (PCA) is set to kick off its 2013-14 season with the iconic sounds of George Gershwin with Gee, Gershwin! at 7 p.m. Wednesday, Sept. 18 on the center's main stage. The show will feature the vocal sounds of Earl and Alexis Hazell from Phoenix alongside award-winning musician Mac Frampton on the piano."We've hosted the Hazells several times here with great success," PCA Executive Director Jon Meyer said. "They are both gifted vocalist, and, as with Mr. Frampton, are professional and a pleasure to listen to." Read More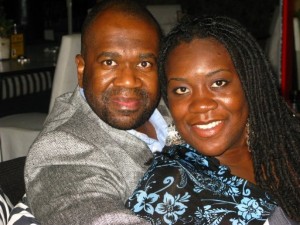 6/20/2013 – Karen Despain – The Daily Courier – Photo courtesy of Timothy O'Neal – OPERA IN THE PINES: Event at Highlands Center brings classical music to the forest
PRESCOTT – Prescott resident Marion Johnston saw her first opera when she was 15 years old and "has been hooked ever since," she said. To this day, opera music enchants her. "Music does a thing for me that nothing else does," she said. "Classical opera is a big part of my life." She and other organizers of "Opera in the Pines" Saturday at the Highlands Center for Natural History hope this appreciation of opera will spread to people unfamiliar with this genre and attract aficionados as well.
Guest artists for the evening, which runs from 6:30 to 9:30 p.m., are Earl and Alexis Davis Hazell and Darrell and Linda Rowader. Their accompanist will be Jeremy Peterman. Read More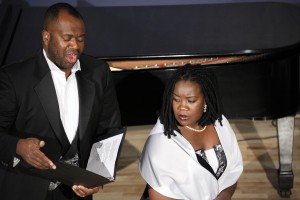 3/14/2013 – Karen Despain – The Daily Courier – Photo Courtesy of Nick Amonson – 'Kings and Queens' concert pays tribute to American music royalty
PRESCOTT – The "royalty" of American music will be cause for celebration in two "Kings and Queens" concerts 2 p.m. and 7:30 p.m. Saturday at the Prescott Center for the Arts.
Reigning performers in the tribute to music of days gone by are Earl and Alexis Hazell of Tempe, and Darrell and Linda Rowader of Cherry. Earl and Alexis, a bass-baritone and mezzo-soprano, respectively, are both trained opera singers who perform as a couple around the state, in addition to owning their own production company, Jazzoperetry. Read More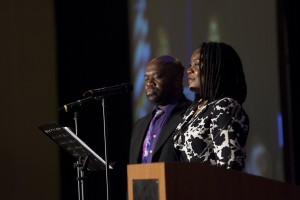 July 28 2012 – Michelle Garrett – Deseret News – Photo Courtesy of Rebecca Pringle – Opera-singing couple found love in Utah
Summary: Earl and Alexis Hazell didn't know they would find true love when they decided to participate in the Utah Festival Opera in Logan five years ago, but now they are happily married and working together in what they love–music.
PHOENIX, Ariz. — In the summer of 2007, two up-and-coming opera singers, one a bass, the other a mezzo-soprano, decided at the last-minute to participate in the Utah Festival Opera in Logan, Utah. Read More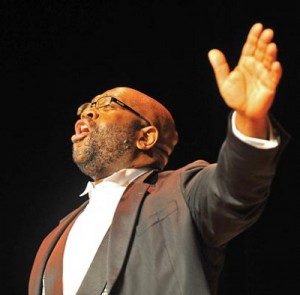 2/23/2011 – Bruce Colbert – The Daily Courier- Elks, PFAA team up for musical arts venture – Photo Courtesy of Matt Hinshaw/The Daily Courier
PRESCOTT – Bass opera singer Earl Hazell is harmonizing some distinctive musical and organizational talent in Prescott, and he and his wife, mezzo-soprano singer Alexis, are fine-tuning it for a Friday evening debut at the Elks Opera House.
"When you've got a town the size of Prescott, with an intimate community, the arts have much more impact on the health and welfare of the community, yet they are easily ignored," Earl said. Read More